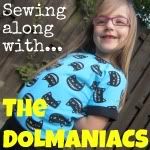 This week I'm taking part in the Kitschy Coo sew-along.
I've had some issues sewing with knit fabrics so although I have these pretty fabrics
I decided to make a tester using cheap jersey I already had
My daughter is 5.5yrs, in 6-7yr clothing, so I played it safe and tried out the 7/8yr size of the pattern. It's a little big around the neck and chest but the length is how I like it on her.
For the real Dolman top I'll be using the 5/6 pattern, with the 7/8 length.
"Do you like your new top Rheya? The one Mummy sweated over for days?!?"